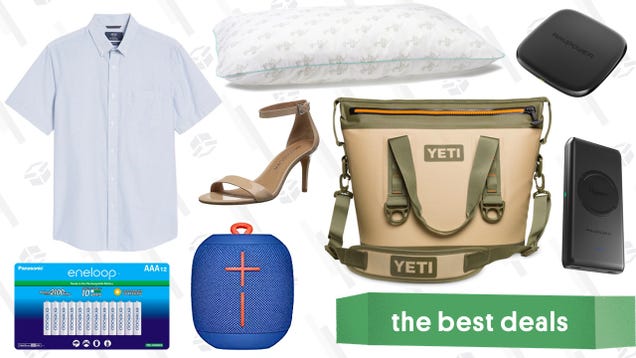 Qi charging pads, Nordstrom Rack's New Arrival sale, a YETI Hopper cooler, and more are all part of the deals of the day.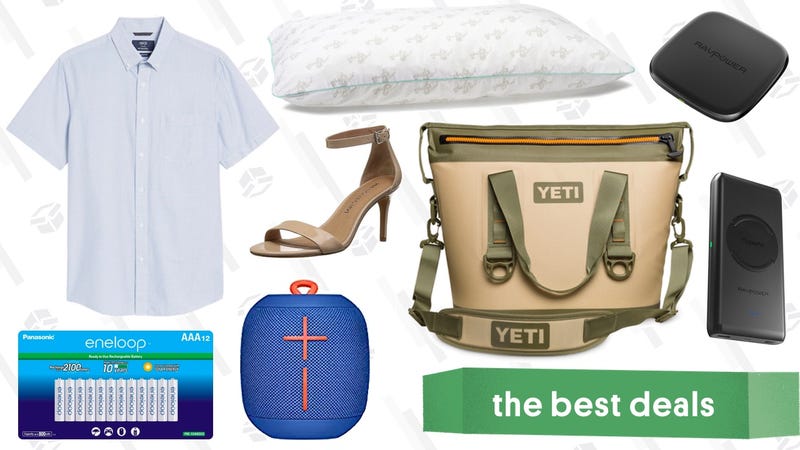 Qi charging pads, Nordstrom Rack's New Arrival sale, a YETI Hopper cooler, and more are all part of the deals of the day.
Bookmark Kinja Deals and follow us on Twitter and Facebook, or sign up for our newsletter to never miss a deal.

BEST TECH DEALS
The vast majority of Qi wireless chargers on the market will only charge iPhones at 5W speeds, even if they're capable of supplying 10W to Android devices. A select few though use a very specific frequency that charges iPhones at a maximum 7.5W, and three of them are on sale right now for the best prices ever.

This standard pad would be the cheapest 7.5W charger we've seen to date at $27, but our exclusive promo code KINJA066 brings that down to $23.
This 10,000mAh battery pack has a Qi pad built right in, which is actually a really great idea. $46 would be an all-time low for it, but the clippable $6 coupon on the page makes it even cheaper.
And last but not least, there's also a 7.5W Qi stand on sale for $32, which is an all-time low, though it doesn't include any other discounts that we know of.
---
Some day in the distant future, AAA batteries may mercifully be relegated to the history books, but until then, you should probably buy some rechargeables. Eneloops are our readers' favorites by a wide margin, and $17 is the best price Amazon's ever offered on a 12-pack. Just note that this deal is only available today, and only for Prime members.
---
The UE Wonderboom is an adorable little speaker that punches above its weight in both sound quality and features, packing in IPX7 water resistance, 360 degree sound, and even multi-room audio with other UE speakers. It offers a good value proposition at its $100 MSRP, but at an all-time low $50 (for Prime members only), it's a no-brainer. You even get to pick from a bunch of different colors.

---
If you need a lot of space to store GoPro footage, Nintendo Switch games, or anything else that you can put on a microSD card, this massive 200GB model is down to $55 on Amazon right now, one of the best prices ever outside of a short-lived $50 deal last holiday season.

---
If you own a camera other than your smartphone--or hell, even if you just like to take great pictures with your phone--you should have a good tripod. This one from Aukey has a ton of impressive features for its $78 price tag, including a ball head, a detachable monopod, and two included quick release plates that you can keep on your cameras. Just use promo code KINJAT06 at checkout to save a whopping $42.

Want to use this with your phone? We recommend the Glif.

---
Update: The $40, 16GB tablet is sold out, but the 32GB model is still available for $65. That's $25 less than the usual refurb rate, but it's only available for Prime members.
With a 12 hour battery, expandable storage, and hands-free Alexa support, Amazon's Fire HD 8 is already one of the best deals in the tablet market for its usual $80. Today though, you can pick one up for an impulse-friendly $40, as long as you don't mind buying a refurb.

That's the same price as a refurbished Fire 7 tablet, which is worse in pretty much every way. Just note that this deal is only available for Prime members.

---
If you take your Wi-Fi seriously, and can't abide dead spots, NETGEAR's Orbi mesh routers are some of the best you can buy according to Gizmodo and our readers, and the three-pack has never been cheaper.

$249 would be an all-time low on its own for the three-pack, which should provide enough coverage for even the largest homes, but an additional $30 clippable coupon makes the deal even more enticing.

---
With backlit buttons and a capacitive screen, the ability to control up to 15 devices, a handy charging cradle, and more compatibility than any other brand, the Logitech Harmony Advanced 950 is a worthy addition to your home and home theater, and today's $180 deal is the best we've ever seen.
---
This plug-in surge protector from APC does exactly what you'd want it to do: Get out of the way. Its six outlets are mounted on the sides, so you can stick it behind furniture without providing extra clearance. There are also two USB ports (on the front, sadly) for your mobile devices. Get it for $12 today, within a couple cents of an all-time low
---
Anker's SoundBuds Slims are our readers' favorite affordable Bluetooth headphones, and you can grab a pair for just $19 with promo code WE5B8NAH, or $7 less than usual.
The SoundBuds Slim are, as you might have gleaned from the name, far smaller than the original SoundBuds. Heck, they look like a small set of wired earbuds; you might never guess there were batteries and Bluetooth radios in there. Despite the size, these buds are still rated for seven hours of battery life, and recharge fully in just 90 minutes.

---
The Kindle Paperwhite is the best e-reader for almost everyone, and at $70 for a refurb, it's never been cheaper than it is today. And don't worry, you'll still get the same 1-year warranty you'd get if you bought it new.

---
VPNs have been in the news, and whether you want to get around video geoblocks, circumvent proxy filters, or just keep prying eyes out of your browsing data while using sketchy public Wi-Fi, reader-favorite Private Internet Access has a deal to fit your needs.
Last month, they offered our readers $10 off two year memberships, but this time around, you get a few more choices, ranging from a quick taste of the service to an extended commitment with additional savings:
These deals are only for our readers, but we aren't sure how long they'll be available, so go ahead and sign up while you can.
BEST HOME DEALS
I know we normally dismiss YETI products as overpriced, but at least for today, their Hopper Two 20 soft cooler is down to just $175, way down from its usual $250. This thing can hold about 18 cans at a 2:1 ice to can ratio, and keep everything cold for days on end.

This is a one-day Woot deal though, so it'll be gone before the ice melts. The last few YETI deals we've seen have sold out within hours, and we don't expect this to be any different.
---
20 Pound Weighted Blanket | $95 | Amazon | Promo code H6FXDDZM
15 Pound Weighted Blanket | $79 | Amazon | Promo code 85YNQOD9
12 Pound Weighted Blanket | $59 | Amazon | Promo code KQOD5QGL
We were hoping to see some great weighted blanket deals for Prime Day, and we aren't disappointed. Three different blankets are on sale for all-time low prices, and the deals are available starting now. Just be sure to note the promo codes below.
In addition to keeping you warm, weighted blankets can work wonders for your anxiety. Just imagine the heavy bib they put on your chest at the dentist when you get X-rays. Feels nice, right? Now imagine a softer version of that over your entire body.
---
My Pillow makes our readers' favorite pillows, and Woot's is offering a deal today that should help your wallet rest easy.

For $55 (queen) or $57 (king), you'll get two My Pillows with either medium fill, firm fill, or one of each. That's not much more than you'd normally expect to pay for one of these pillows. Plus, deals on these pillows are pretty rare, especially for the classic, non-gusseted shape, so if you need some new pillows, grab them now.
---
If you don't mind the two-tone design, $52 is a great price for a swiveling desk chair with height and recline control. You even get to pick from three different colors. Just pick your color and use promo code FDW13 at checkout to save.

---
If you haven't bought a mattress on the internet yet, today's a great day to fix that, as Amazon's discounting popular Nectar mattresses to all-time low prices for Prime members only.

Unlike most mattress-in-a-box deals, this one includes two free pillows and a 180 night trial period, compared to the industry standard 100. But like the Caspers and Leesas of the world, it's still constructed from multiple layers of foam, and arrives at your door in a surprisingly small box.
Prices start at $319 for a twin and stretch up to $619 for a king, all of which are all-time low prices. The deal is only available today though, so don't sleep on it.
---
Flamin' Hot Cheetos: Great for snacking. Better for fashion. Enjoy responsibly.

Clip the 20% coupon and use Subscribe & Save to get 40 snack packs for under $7. It's listed as an Add-On Item, but it'll ship for free with Subscribe & Save, even by itself.
---
Theee Etekcity air mattresses aren't the most featured-packed mattresses we've ever seen, but they'll get the job done. The twin sized comes with a built-in electric pump and is an impressive 18 inches tall, so you likely won't feel any lumpy rocks underneath you. It's $20 - $30 off for Prime members today, down to just $62.
The queen size is a model older and thinner, which means it will make up smaller for camping or travel. It doesn't have a built-in pump, but does include a cordless, rechargeable pump in the box. Today's $55 price tag is a good $25 off the usual.
---
Um, why are these the first smart plugs we've seen with built-in night lights? It's such an obvious and useful idea, I'm surprised they don't all have them. And yes, you can use your phone or Alexa to control the light in addition to the plug, including its brightness level.

Get two of the plugs today for just $23 with promo code SMARTLIGHT.
---
If you have a Whole Foods near you, go spend $10 there between now and Prime Day--a couple jars of asparagus water ought to do it--and you'll get a $10 credit on your Amazon account that will apply to any Amazon.com purchases on Prime Day next week. Just download the Whole Foods app, sign in with your Amazon Prime account, and scan your QR code at checkout.

---
Anker's Roav C1 dash cam raced into our bestsellers club after only a few decent discounts. I wrote all about my early impressions here, and we hope that it's helped some of our readers who were involved in accidents, or at least let them capture some cool footage. Get yours today for just $55 with promo code CAMERA06.
---
Amazon makes its own luggage now (editor's note: can an AmazonBasics airline be far behind?), and you can get a complete set of three hardside spinners for just $113 right now, an all-time low by about $60!

The 20" should fit in pretty much any overhead bin, while the 24" and 28" checked bags are great for different lengths of trips.

---
Why would you drink still water when fizzy water exists? . For a limited time, you can score 18 cans of bubly brand sparkling water in three different flavors for just $7 right now after clipping the 25% coupon. Just note that it's an Add-On item, so you'll need to include it as part of a larger order.
---
While its grip might not be quite as secure as a perfectly-sized socket, this Tacklife universal socket can get a good-enough hold on almost any bolt, not to mention oddly-shaped things like hooks, without taking up a ton of space in your tool box. Get it for just $7 with promo code 6EWUWHIB.
---
For a limited time, Amazon will sell you three pouches of Tide HE-compatible Free & Gentle laundry detergent (totaling 144 ounces or 93 loads) for under $14. These pouches are designed basically as refills for plastic Tide bottles, but as long as that doesn't bother you, this is a fantastic price-per-ounce for any detergent, let alone name brand. Just be sure to clip the 20% coupon on the page and use Amazon Subscribe & Save.

---
You know those "Magic Erasers" that can wipe stains off seemingly any surface? They're really just melamine sponges with a marketing budget, and you can get 20 off-brand equivalents for just $8 on Amazon (after clipping the $1 coupon), an all-time low. I used these after moving into a new apartment last year, and they made quick work of all of the scuffs I made on the walls.

We've seen packs with more sponges for about the same price, but they usually ship from China, whereas these have Prime shipping, and are even eligible for Subscribe & Save. They're also twice as thick as most of the inexpensive competitors on Amazon, so they should last longer and be easier to use.

---
Amazon's pulling out all the stops to promote Prime Pantry in the lead up to Prime Day, so you should cancel your next trip to the grocery store and stack the digital discounts while you can.

There are a few things going on here, so check out our post to learn more.

---
As part of their Prime Day early access deals, Amazon's taking up to 20% off a bunch of AmazonBasics stuff right now for Prime members.

The selection here is...eclectic, with options ranging from medicine balls, to kitchen shelves, to flatware, to luggage, to a shredder, to a headboard, and a whole lot more. With few exceptions, AmazonBasics stuff is well made an an excellent value, and that's even more true than usual with this sale. Just note that you'll only see the deal prices if you're logged into an Amazon Prime account.
---
Rack up 20% off a whole bunch of laundry essentials from this early Prime Day sale. The sale has everyone's favorite Tide Pods in a few flavors scents, plus dryer sheets, fabric softeners, scent boosters, and more.
Some items require you to hit the check box on the product page to redeem the coupon, while others will automatically take the 20% off. Just remember, you won't see the discount until checkout. And as always, you can save a little more if you Subscribe & Save, and have the freedom to cancel your subscription at anytime after your first order ships.
---
If you live in a city with Amazon's same-day Prime Now delivery service, but haven't gotten around to using it yet, they're running a fantastic promotion for new members to celebrate the lead-up to Prime Day.

For a limited time, you can save $10 on your first Prime Now order with promo code 20PRIMEDAY, and then automatically receive an additional $10 credit to use before the end of the month on another order. This deal requires you to spend at least $10.01 per order, so you can basically pay a penny (not including tip and taxes) to get snacks, ice cream, household essentials, and more delivered to front door. This year's options are greater than ever, with the discount available on anything ordered from Amazon or Whole Foods Market (excluding alcohol, digital content, and any ordered placed using Alexa).
If the name doesn't make it clear, you'll need to be a Prime member to take advantage of Prime Now, but you can sign up for a 30 day free trial here.
---
Amazon's really ramping up the deals this week in preparation for Prime Day. You can save on a whole bunch of Amazon's own brands of food, beauty, coffee, vitamins, and more. If you're looking for some suggestions, I'd check out these laundry detergent packs, and this wide selection of coffee. Most of these products are at all-time lows, so get to shopping.
---
BEST LIFESTYLE DEALS
Nordstrom Rack just got a bunch of new styles in from Nordstrom proper, and it's all up to 60% off from now until Sunday. It's not quite a Clear The Rack sale, but with over 5,000 styles available, it's not too far off. As always, use the sidebar to sort through the deluge by type of clothing, and you can also browse the available brands from a dropdown on top.

To give you a sense of how good the deals are, all three products in the image above cost $15 or less, and over 1,500 of the styles in the sale are under $25, so go ahead and rebuild your wardrobe.
---
Just because you're going camping doesn't mean you have to sleep crammed right next to a friend. This Ozark Trail tent has three rooms, and can fit up to 10 people, or fewer people with more space to stretch out. Not bad for $95.

---
Your kids are going to ruin or grow out of their clothes in what seems like a matter of minutes, so all the more reason to not pay full price. Amazon's helping out Prime members today by offering up to 50% off Calvin Klein clothes for kids of all ages.
Scroll through the five full pages of teeny tiny formal wear, underwear, baby onesies, t-shirts, and shorts. Just remember, this sale ends at midnight, so be sure to checkout before the end of the day.
---
Pick a couple new pieces for up to 40% off from this Amazon sale. They're featuring some summer dresses, tops, a ton of shoes, and a couple things you could probably wear to work. The sale will only only last through the end of the day or until the products sell out, so head over to Amazon to check it out.
---
Need a new pair of sunglasses for your next beach trip? Promo code KINJARB will take $12 off a bunch of already-discounted Ray-Ban models (plus a small handful of Oakleys) from Shnoop today, with final prices starting at just $57, but most will be in the $70-$80 range, which is still extremely good. Wayfarers, Aviators, and even several eyeglass frames are included, all with free shipping.
---
Why buy off the rack when custom tailored suits are so affordable? From now until Friday at midnight, you can look your best with a custom suit from Indochino, our readers' favorite custom clothing company by a wide margin. For a limited time, grab any suit from their Spring 2018 collection for just $299 with promo code KINJA18. That deal is exclusive to our readers, and the best price we've ever seen on Indochino suits. To learn more about the suits and the buying process, check out our post here.
---
"No-iron shirts" have been around for so long that it seems almost ridiculous to buy anything else. Twillory takes that notion one step further by taking that no-iron notion and adding a bespoke feel.
Their summer clearance sale isn't officially live yet, but they're giving our readers early access with promo code KDEALS, which will get you any shirt for $49.50, as long as you buy two or more of them.
Those codes should work with all the shirts they sell, including their performance line, as well as the new short-tailed Untuck(able)s, so mix, match, and get creative. We've reviewed these shirts over on The Inventory, so head over there to learn about what makes them so great.

---
BEST MEDIA DEALS
Love to read but don't have the time to sit down and actually read a book? Sign up for Amazon's audiobook service, Audible for 66% less than usual during their Prime Day promotion.

For a limited time, Prime members can get three months of the service for $5 each, down from the usual $15. That entitles you to a new book of your choice each month, and everything you buy is yours to keep, even if you cancel after the three month promotional period ends. The offer is available to new subscribers only.
---
Kindle Unlimited is basically Netflix for ebooks and audiobooks, and Amazon's offering a very rare discount on the service today. You'll get your first three months for just $1, after which you'll be automatically billed the regular $10 per month, unless you cancel. If you love to read, this is a great chance to sample the service without fully committing. The deal is exclusive to new Kindle Unlimited subscribers.

---
At $8 per month for Prime members, Amazon Music Unlimited was already more affordable than Spotify Premium or Apple Music, but Amazon's sweetening the pot for new members by offering four months for just $1, for a limited time.

This is by far the best deal they've ever offered on the service, so if you're a Prime member but haven't signed up for Music Unlimited before, what's $.25 per month to try it out?
BEST GAMING DEALS
If you like Monument Valley, and you like Nintendo, you should grab Captain Toad Treasure Tracker for the Switch, out this Friday. Unlike most first party Nintendo games, this one's only priced at $40, but you can still save 20% if you preorder it with Amazon Prime.
---
DropMix | $30 | Amazon
DropMix is an NFC-enabled card game that basically turns you into a remix artist, and it's down to $30 on Amazon right now, a match for the best price we've seen.

Developed by Harmonix, of Rock Band fame, DropMix seems perhaps a little too ambitious--most people don't have great rhythm, after all--but the game is executed shockingly well. There are multiple game modes, the base set includes 60 song cards from popular artists (though you can purchase expansions, naturally), and it's beginner-friendly enough for anyone to play.
---
Stardew Valley is the perfect gaming anecdote to a stressful day at work, or a long night out, and you can grab it on PS4 or Xbox One for just $13 today. Will you be a winemaker, a vegetable farmer, a commercial fisherman, or, like me, a mayonaise magnate? It's all up to you.
---
From the creators of the webcomic Cyanide and Happiness, this not-safe-for-kids party game challenges you to build your own humorous, offensive, or just weird comic strips with the cards included. It's $5 off today and could be a good change of pace if Cards Against Humanity is getting old.
---
Humble's doing something different with this week's games bundle, but it seems appropriate given that it's focused on Telltale's choose-your-own-adventure games: They're letting you build the bundle yourself.

All you have to do is pick three or more Telltale games from this selection, and you'll save 75% or more off their MSRP. That means no extra games to clog up your Steam library - just titles you actually want to play. The more games you buy, the more you'll save--bundles with five or more games are 80% off--so choose wisely.
---
Update: Last day to save!
Octopath Traveler is finally out on Nintendo Switch this Friday, and JRPG fans can preorder it now to save $12 with Amazon Prime. Just note that you won't see the discount until checkout.

---
TECHStoragePowerAudioHome TheaterComputers & AccessoriesPC PartsMobile DevicesHOMEHome GoodsKitchen
Tools & AutoLIFESTYLEApparelCamping & Outdoors
MEDIAMovies & TVBooks & ComicsGAMINGNintendo
Toys & Board Games